WE HAVE NOW HAVE MADE IT EASIER THAN EVER TO FAST TRACK YOUR BUILD
INTRODUCING THE ARCHITECTURAL PLAN SET!!!
This Architectural Plan Set Was Designed to Expedite Your Approval Process by Providing you with a Full Set of Architectural Plans to Present to Your Local Planning Department, and Contracting Team.
Your Contracting Team May or May Not Include Plumbers, Electricians, Concrete Contractors, Erecting Crew, & Your Interior Trim Out Team.
This Architectural Plan Set Gives Your Team a Thorough Overall View of The Steel Eco-Kit You Will Be Building on Your Property.
We Will Prepare Each and Every Architectural Plan Set for Our Clients Exact Property Location and Requirements.
Here Is What's Included in Every Architectural Plan Set
A FULL SET OF ARCHITECTURAL PLANS
SAVING YOU THOUSANDS OF DOLLARS!!!
Preliminary Plan Showing:
• Both Front and Rear Elevations
• Roof Framing Plan
• Foundation Plan
• Overall Dimensions for Your Eco-Kit
• Building Layout Plan
• Building Main Frame Layout
• Building Exterior Wall Frame Layout
• Roof Framing Layout
• Front, Rear, and Sidewall Elevations
• Exterior Sheeting Layouts
• Concrete Anchor Details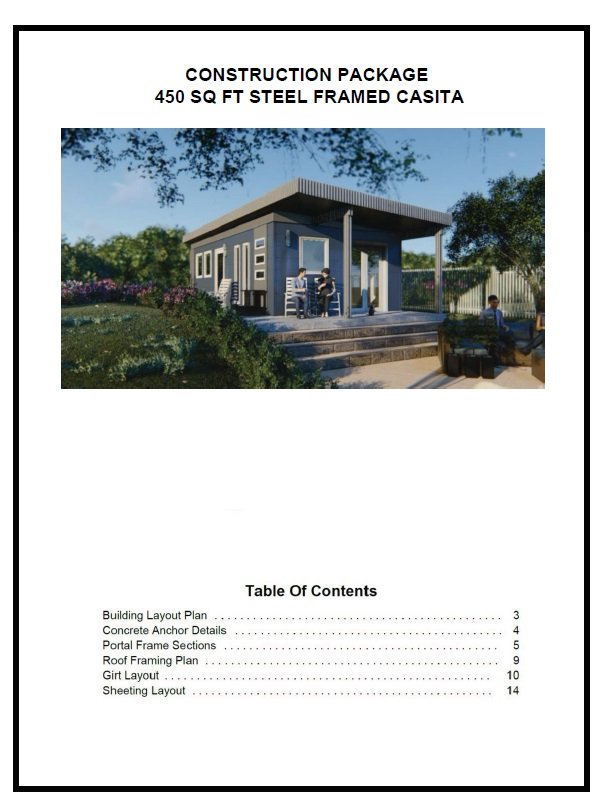 Step by Step Steel Building Video Installation Guide
Time Lapse Building Set-Up Video
Interior Trim Finish Examples Done Completed by Others
Color Chart for Your Specific Region
We Will Design Each and Every Architectural Plan Set to Meet Your Property Location and Requirements